The second (?) NKHC overseas venture (senior members remind me the club has been to Les Gets in France) saw us arriving in Madeira to beautiful sunshine on 2 February. Gloomy weather forecasts encouraged us on to the highest peaks the next day, where we met with challenging conditions (see left hand photo) but the whole party managed to join some finches on top of Pico Ruivo.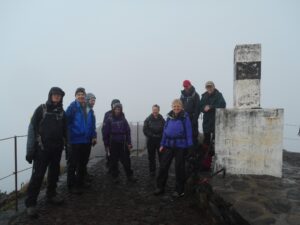 It's fair to say our accommodation was of an unusually high standard – complete with dance floor, (unheated) pool and fabulous sunsets – and we enjoyed some fine cook-ins in between visits to unpretentious local restaurants.
It was showery with strong winds for most of the week so the rest of our week's walking was largely through the forest along numerous levadas, but we also had spectacular trips to the east coast and the "Valley of the Nuns" – that's where we looked down on this rainbow.